Paper Erosion
Photographer: Ran Erde
Maty Grunberg: Erosions by Hagai Segev | Tel Aviv Artists' House, October 2012

More than forty years ago, Maty Grunberg began his journey in the world of art, living and working for the most part in New York and London. He returned to live in Israel five years ago, and now works in a spacious studio in Bat Yam. He is presently exhibiting his work for the first time at the Tel Aviv Artists' House.

Grunberg's art focuses on his perceptions of the world and his surroundings, the forms and feelings that emerge from his personal experiences, and from his familiarity with the sea as an ardent underwater diver. His unique and eye-catching images are revealed as numerous strata and "erosions," the name he chose for the series which is the focus of this exhibition. The works, produced over a period of years, beginning in the 1970s, go beyond conventional artistic renderings on paper.

Read More...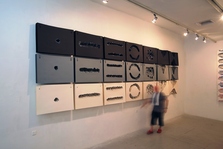 Black Grey White
The dot, the line, the outline are in two dimensions. It is the depth of the erosion which materializes the passage to the third dimension. The black represents the non-colours, the white the all-colours and the grey acts as a natural link between the black and the white. The identity of each shade erosion depends on the form, from the point of the departure to the final complex. The third dimension entices the implied varying shades within the 'non-color' and the 'all-colours'.


---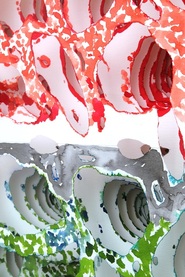 Extract from The Artist Book "Writing to you the Month of August 2010"
created by M.G. & N.R.A | Written by Naomi R. Azar

"Perhaps they are also eddying forms of your creation? In the philosophical, three-dimensional paper work that you have crafted, you have captured the shifting of form within the folds of time, the wear-and-tear that generates the new. Everything is revealed, in an open horizontal section, as if you had opened a forbidden fruit with a chisel and had peeked inside. We are not meant to reveal these vanished events. Humans should be closed and secret. Sometimes you can almost sense all the human layers of years, of life, but they are hidden, inaccessible.
And then there are short, transparent instants of time when you suddenly feel, see, understand. Flashes of understanding that evaporate and disappear at once.
It is really very lucky. That they disappear, I mean. For how would we be able to live in the face of permanent and lucid awareness of the infinite depths of our finite existence?"

---